Are you still scrambling for last minute items to wear for New Year's Eve? It's not too late to still put something together ladies. If you want to really make a wow statement, this is the night to go for the gold. That's right, everything that shimmers, shines and sparkles is the perfect pick for New Year's Eve. The great thing about a metallic dress is that you don't have to worry about jewelry. Keep it simple with a pair of studs or small drop earrings. Anything too chunky can make you look tacky because it will only compete with the dress.
But if you want something you can wear again then stick to something as simple as the little black dress. At least you can wear it again and again. Fashion's darling this year was the peplum. A classic look that emphasizes the beauty of a woman's curves. Pick a look with a deep-v like the one pictured below to add a little sex appeal to your look.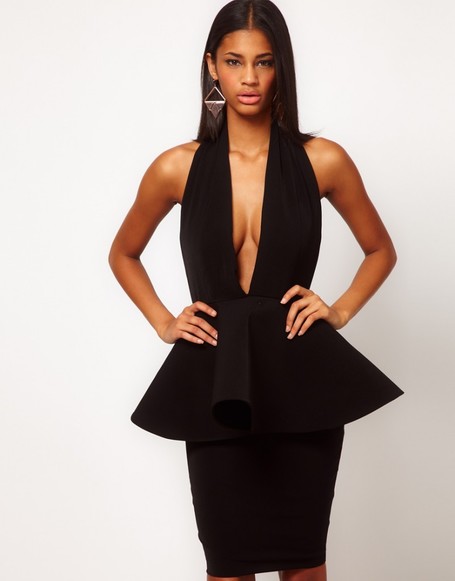 Wearing black is sleek, classic and has an alluring appeal all its own. The accessories you choose to wear is what will make it the look of the night. The more simple your dress, the bolder your accessories should be. Plenty of stores are having after Christmas mark-downs so finding the perfect dress should be a cinch. But you only have a few hours left to get the job done.
Have fun and Happy New Year.