It was a sea of aqua, canary yellow, crimson red and sparkles at the Emmy Awards last night. Fashion lovers look forward to the red carpet style of all the celebrities as they make their way into the ceremony.
Who did you think had the best dress at the event? My personal favorites included Heidi Klum's seafoam, fluid dress with the super sexy slit and Padma Lakshmi's orange strapless gown.
Lucy Lui dazzled in this Atelier Versace number.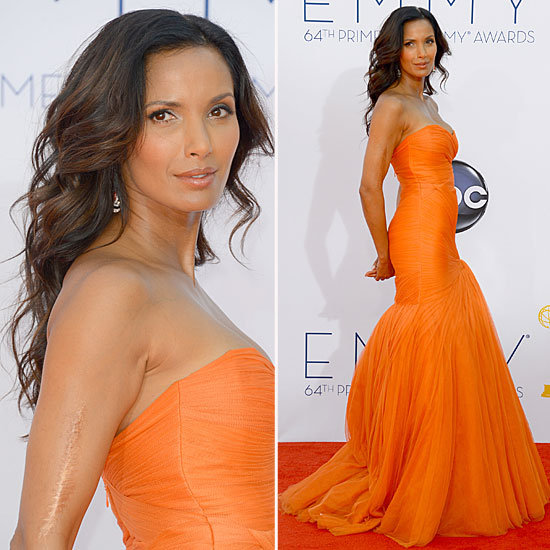 Padma Lakshmi was radiant in this strapless dress by Monique Lhuillier.
Ginnifer Goodwiin in an embroidered dress by Monique Lhuillier.
Julie Bowan (Getty Images), Julianne Moore in Christian Dior (Wire Image), Kaley Cuoco wore a gown by Angel Sanchez, Claire Danes in Lanvin (Getty Images),
Heidi Klum floated on the red carpet in this sexy high slit dress by Alex Vaulthier.
(Getty Images)
Kerry Washington sparkled in Vivienne Westwood. (Wire Image)
Kat Dennings in a sweetheart neckline dress by J.Mendel, Jena Malone also in J.Mendel, and Julia Louis-Dreyfus
in Vera Wang. All were looking great in autumn colors of blood-red, cranberry and cherry.